The #1 Hedge Fund Contact Database
With over 3,800 hedge fund listings, try the most complete and up-to-date hedge fund database on the market.
3,800+ Funds, 25 Categories of Information: All Sortable
Our hedge fund database is delivered in Excel format, making it easy to sort, filter and search all 3,800+ listings. And 12 months of updates are included absolutely free so you know you are getting the most up-to-date information.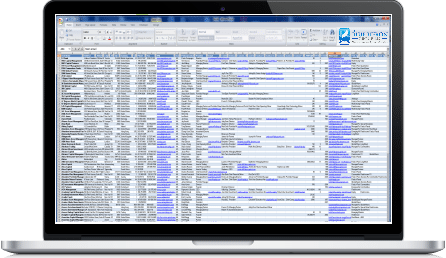 No Database is Easier to Use
Simply complete your purchase and you will instantly receive a download link. Open the file in Excel or any spreadsheet program and immediately begin filtering and sorting the information relevant to you.
3,800+ Hedge Funds Around the Globe
25 Categories of Information
Full Contact Info Including Emails
12 Months of Updates Absolutely Free
Instant Download
Compatible with Virtually all Spreadsheet Programs Including Excel and OpenOffice
Compatible with Virtually all Contact Management Programs Including Outlook
Mac & PC Compatible
Easily Sort, Filter, and Search the Database
Excel Format
Quickly Create Amazing Charts and Graphs
Ideal for Marketing or Job-Seeking
DETAILS PROVIDED INCLUDE:
Firm Name
Address
Phone
Fax
Website
Main Company Email
Employment/Careers Email
Up to 4 Executive Contacts w/ Position and Email
Assets Under Management (AUM)
# of Employees
Year Founded
Fund Type
Fund Strategies
DATABASE IS FULLY COMPATIBLE:
Delivered in Excel Format (.xls)
Mac and PC
Most Tablets and Smartphones with a Spreadsheet App
Excel, Open Office, Google Docs etc.
Most Contact Management Software Including Outlook, SalesForce, SyPro etc.
PURCHASE INCLUDES:

12 Months of Free Updates
Every 30-60 Days You will Receive a Link to an Updated List
Updates Include New Launches, Updated AUM, New Contact Info and More
You will Never be Charged for Updates
Why Choose Us
25 categories of information on over 3,800 hedge fund managers
Easily search, sort and filter with Excel
Quickly create brilliant charts and graphs
Fully compatible with Mac and PC
Instant download